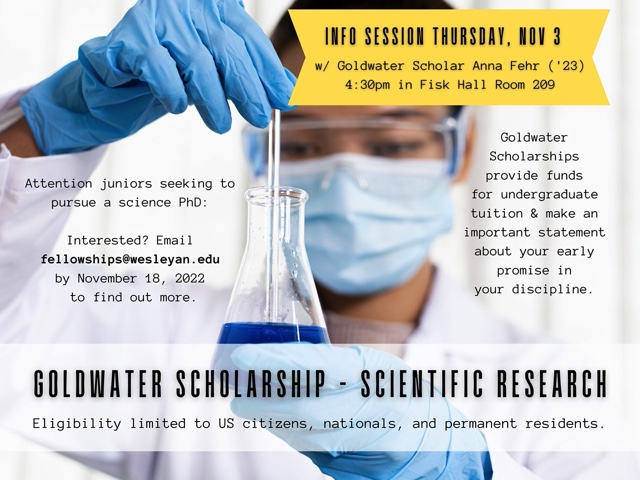 The Goldwater Scholarship grants scholarships to undergraduates who intend to pursue research careers in the natural sciences, mathematics and engineering (the full list of disciplines is available at the bottom of the Goldwater Scholarship's eligibility guidelines). Both sophomores and juniors are eligible to apply, though in most cases juniors are most competitive. All applicants must be actively engaged in research in addition to their coursework to be considered for this scholarship. The Goldwater Scholarship does have a monetary component ($7500 in the senior year those those who apply as a junior or $7500 in the junior year and again in the senior year for those that receive the award as a sophomore). But even more importantly, winning the Goldwater serves as a marker of early academic promise that can help students secure future fellowships, admission to graduate school, and other important forms of recognition and access that will be an asset to building a career in research.
The Office of Fellowships will hold an info session and Q&A with Goldwater Scholar Anna Fehr ('23) on Thursday, November 3 in Fisk Hall Room 209 at 4:30pm. Join us there to learn more! Freshman, sophomores, and juniors are welcome. (Come listen, even if you might apply in a future year, rather than right now!)
Those interested in applying this year should complete the pre-application (available on the Goldwater Scholarship website) by November 18, 2022 at the very latest. Reach out to fellowships@wesleyan.edu with any questions.