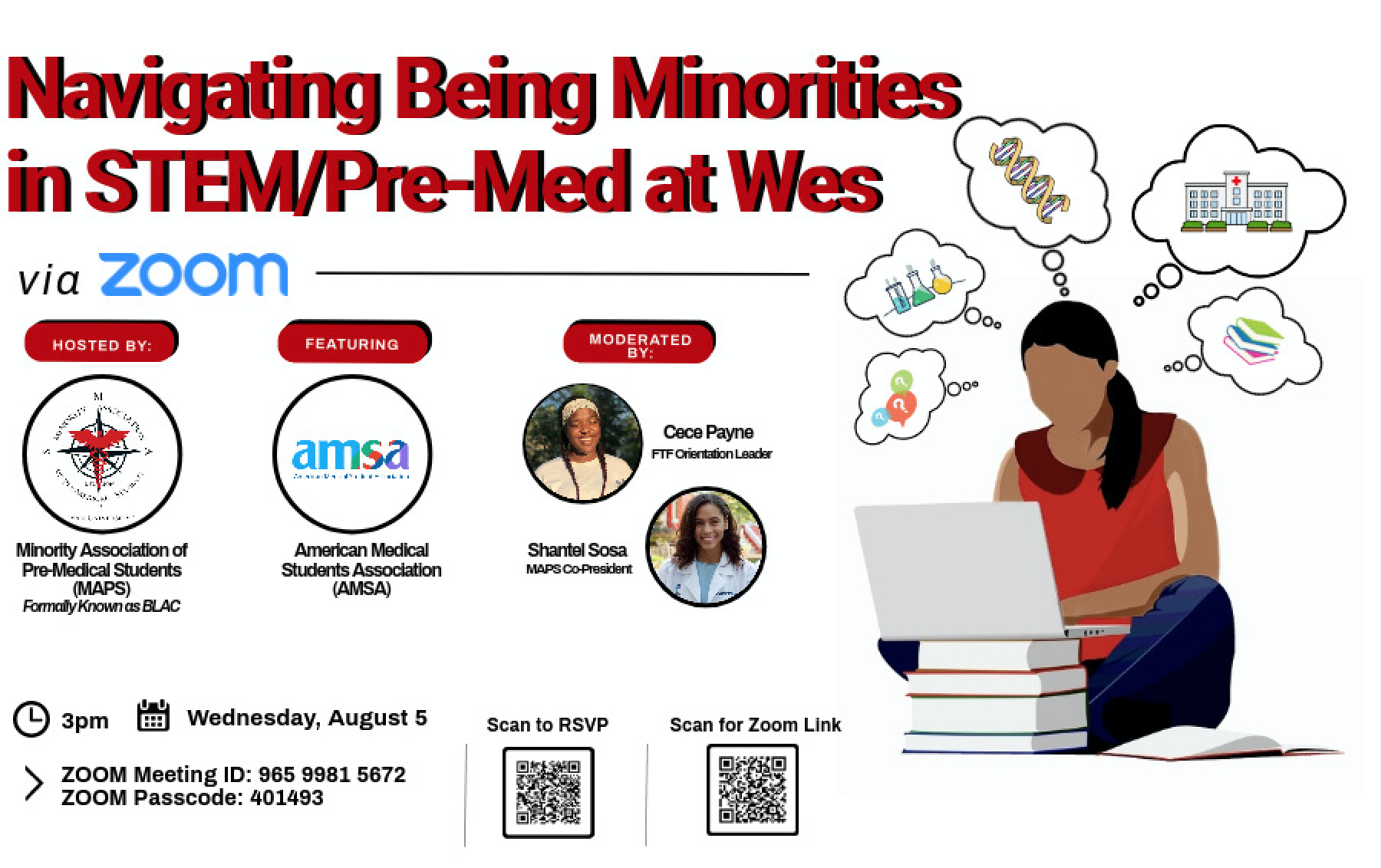 via Zoom 3pm EDT Wednesday, August 5
Zoom Meeting ID: 965 9981 5672
Zoom Passcode 401493
Zoom link: https://wesleyan.zoom.us/j/96599815672?pwd=dGl3NzlRcXR5b1lRWlQvemJ6VHV3QT09
Please RSVP through this link: https://docs.google.com/forms/d/e/1FAIpQLSf59iFx81EIncZu50Lx_xlIybMWH5-tD5IM4wk1YNdQD0MdGQ/viewform
MAPS contact: wesleyanumaps@gmail.com
MAPS (Minority Association of Pre-Medical Students) Wesleyan Chapter, formerly known as BLAC, is a group organization that is under the Student National Medical Association (SNMA). Wesleyan's MAPS Chapter is paired with its big sibling SNMA chapter of Quinnipiac Medical School. MAPS' aim is to provide a support system enriched with advice, informative events, resources, etc. for minority students that are on the pre-med track. To kick start the 2020-2021 academic year, MAPS will be hosting an informative panel titled: ​Navigating Being Minorities in STEM/Pre-Med at Wes. ​This panel will feature Wesleyan's AMSA (American Medical Students Association) Chapter and will be moderated by MAPS Co-President, Shantel Sosa '21 and FTF Orientation Leader, CeCe Payne '21. This panel is aimed for incoming and current minority students who are interested in learning about how to make the best out of their Wesleyan career as a STEM/Pre-Med student.
Panelists include
Matiza Sacotingo '21​, MAPS Co-President, French Studies major and Chemistry minor
Ivie Uzamere '21​, MAPS Secretary, Biology & Science in Society double major and Chemistry minor
Tashfia Jilu '22,​ Co-MAPS Representative and AMSA President, Biology and Science in Society double major
Khari Derrick '22,​ MAPS Co-Underclassmen Liaison, Government major w/ an American government concentration and Chemistry minor
Edrea Jiang '23, ​AMSA Vice President, prospective Molecular Biophysics and Biochemistry and Economics double major
Please click here for a link to the Zoom recording of the panel.