By Makaela Kingsley, director of the Patricelli Center for Social Entrepreneurship
When I started college in the fall of 1994, we had the Freshman Fifteen and an all-you-can-eat dining plan (RIP Mocon). Now, there's the Rule of Seven, cafeterias are thoughtfully called all-you-care-to-eat, and it's our schedules and resumes that have become overweight.
Author's note: I'm about to overuse a food metaphor, so you might want to grab a snack.
At Wesleyan, faculty talk to their advisees about "The Rule of Seven." This time management strategy says college students should have no more than seven commitments at once. That includes classes, sports, leadership roles, volunteer commitments, work study jobs, relationships, hobbies, and anything else that regularly demands a student's time and attention.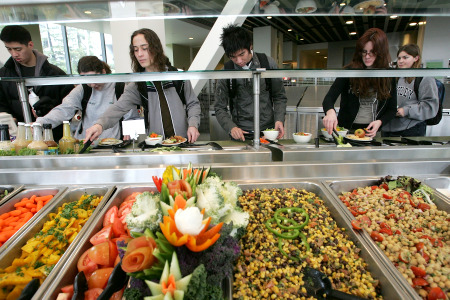 In this age of frenetic resume-building and schedule-cramming, keeping the number to seven is not easy. During the first two weeks at Wesleyan alone, new students attend an academic fair to learn about 1,000 courses offered in 46 departments and an activities fair that boasts 317 groups scrambling to collect email addresses and claim spots in the precious seven. And, all that's for a campus of fewer than 3,000 students.
So let's just admit it, most students don't limit their list to seven. It's like eating in a cafeteria: there are so many yummy classes (From Tea to Connecticut Rolls: Defining Japanese Culture Through Food!), extra-curricular activities (Food Not Bombs!), and things to do (Pancakes with PSafe!). And really, college is a time for trying new things. It makes sense to diversify before specializing. Seven just doesn't sound like a big enough number, especially at the intellectual, cultural, activist, and social buffet that is Wesleyan. And therefore, while most students know about the Rule of Seven, few actually adhere to it.
The problem with this slippery slope of overextendedness is that it often leaves students stressed, distracted, and unsatisfied. They engage in too many things to truly benefit from any. They have so many things on their tray that they end up wasting food and getting indigestion!
And worse, they miss out on the learning that happens with a deep dive into a single topic, role, or project. Sure, there are glimpses of this during rigorous courses, varsity sport seasons, and executive roles in student groups, but even those deep dives have end dates, final exams, and long summer breaks.
An exception may be the senior thesis model. By senior year, many students have had their fill of the cafeteria, and they've discovered the subjects and roles that sit squarely at the intersection of their talent and passion. By working on a single project for at least one year and simultaneously limiting outside distractions, thesis writers have a deep intellectual and practical experiences. I believe that we can learn from this model and replicate it with other capstone experiences.
So, to students who are trying to find breadth, depth, and balance and become T-shaped Changemakers while still adhering to the Rule of Seven, I have the following advice:
In the first year of college, go for breadth not depth. When you find you have more than seven, practice the art of prioritizing. Commit yourself to each class, extra-curricular, job, sport, or key relationship for a period of time, but know that it's okay to drop the things that are not a fit. Reflect regularly: What do I like about this experience, and what do I dislike? Am I fulfilling my responsibilities, and if not, why? Will I stick with this or give it up to make room for other experiences? Be proactive. Make changes in real-time, not months after you recognize an imbalance.
In the second and third year of college, start to specialize. You can make larger commitments that count as two of your seven. Four or more may relate to each other. Continue reflecting, but don't be so quick to abandon commitments that don't feel great. Learn to muscle through the hard parts. Chances are you'll come out on the other side smarter, stronger, and better prepared for what comes next.
By senior year, consider shifting to a Rule of Less Than Seven (thank you, Ben Stiller). Take a deep dive into a project or field. Remain open to trying new things and building new relationships (last call before the Wesleyan buffet closes!), but devise mechanisms to prevent that openness from becoming too distracting. Say no to opportunities. Hit seemingly insurmountable roadblocks, and push through them. Get closer to finding purpose.
Time-management is not just about sleep schedules and to-do lists, it's about making tough choices, reflecting and adjusting, and knowing when to stop snacking and settle down for a square meal.
Bon appétit!
Makaela Kingsley is director of the Patricelli Center for Social Entrepreneurship at Wesleyan University in Middletown, CT. You can read her thoughts on Entrepreneurship, Networking, and Personal Branding on this blog.