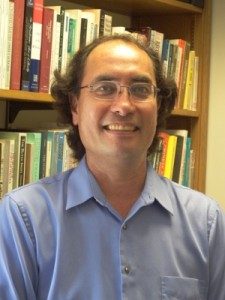 Dean Phillips spends much of his time advising students – discussing academic, social, and personal challenges and how to achieve personal goals. He works with individual students, professors and parents, to support students in their pursuit of a positive learning experience.
Dean Phillips provides guidance and support to all students in the Class of 2024. He's a source of information on academic standing, choosing a major, graduation requirements, university policies and procedures, and opportunities and resources available at the university and in the surrounding Middletown community.
"What I like about my job is that I get to work with the whole student rather than just a particular aspect of a student's life," Phillips says. "That's my mission as a class dean. My goal is to get to know each student I work with on an academic and personal level."
Dean Phillips was born in New Haven, CT, but has a special bond with the international community.  The son of a Foreign Service Officer, Dean Phillips grew up around the world and attended schools in Peru, Mexico, the Philippines, New Zealand, and India before finally returning to the United States to attend college the University of California, Santa Cruz where he earned a bachelor's degree in Studio Art (photography and printmaking) and a master's degree in Comparative Social History.
Dean Phillips earned his Ph.D. in American Studies from Yale University, where he wrote a dissertation entitled "Art for Industry's Sake: Halftone Technology, Mass Photography, and the Social Transformation of American Print Culture 1880-1920."  Prior to Wesleyan, Dean Phillips was an assistant professor at Bennington College, where he taught a variety of courses in American history. With wide-ranging academic interests in social history, cultural studies, studio art, and the history of science and technology, Dean Phillips is well-suited to advise students across the breadth and depth of Wesleyan's liberal arts curriculum.
When he's not in the office, Dean Phillips enjoys cooking, photography, duplicate bridge, playing guitar, working on home improvement projects, and taking his dog for walks at the Portland reservoir.